Host With The Most (For the Least $!)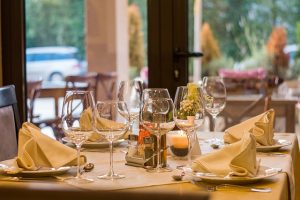 Want to throw a holiday dinner party for your friends and family, but aren't sure you'll be able to stay on-budget? Here are four ways you can shower your loved ones with hospitality, without drying up your funds:
Early Bird Serves & Saves:

Start planning ASAP

, which means select your intimate guest list and

(realistic) dinner budget now. Pick and stick to your menu

, ideally one which incorporates ingredients already in your fridge, or ingredients you can pounce on when on sale, then freeze for later use, like bread.

Affordable Feast

: When planning the menu

, stick to seasonal produce, and serve a vegetable-heavy meal. Also plan on buying fresh, as you may think you're paying for convenience with packaged potatoes, but you're really paying for brand name and not necessarily the tastiest option. Chicken tends to be cheaper than beef and fish, though some markets can have deals on cuts good for a family-style meal.

Make sure you have a shopping list

, otherwise you risk over-buying, or having to rush out last minute and spend more on what's readily available.

The Décor:

No need to splurge here. A simple tablecloth with a few candles or even some seasonal flowers will add warmth to the meal. You may also find it's more cost-effective to scour thrift shops for plates and glassware, rather than using disposable paper products.

Have a Little Help From Your Friends:

A major secret to cutting dinner costs? Make it a potluc

k. Designate what you'll be providing, like the appetizer and main dishes, while they are invited to bring side dishes and desserts. If you have a handle on the cooking, consider asking guests to bring their own wine.
Hosting an elegant, memorable meal doesn't have to involve overspending!