Who We Are

SYNCIS® is one of the top marketing organizations in America. We bring together individuals, families, small business owners, and some of the largest insurance and financial services providers in America to make financial products and services more accessible to middle-income families.
Our Mission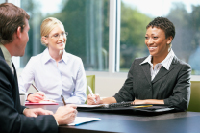 Our mission is to help families attain proper financial protection and prepare for the future. Our Associates come from all walks of life and understand that many people may feel overwhelmed by the complexity of financial products. We work to make the process less intimidating by educating families about basic financial principles so that they can make informed decisions about which financial products fit their needs.
Because guaranteed pensions, employer 401k matching, and generous government benefits are now the exception rather than the norm, we believe life insurance and annuities will become an increasingly important part of Americans' plans for financial stability.
Why SYNCIS?